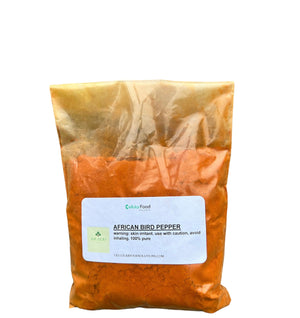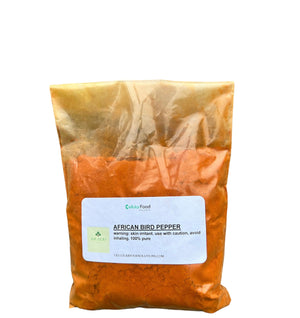 On Sale
African Bird Pepper 1/2 pound
Sold by the 1/2 pound
Circulatory stimulant, Appetizer, antiseptic, antispasmodic, antibacterial, carminative, diaphoretic, febrifuge, rubefacient, condiment, nerve tonic, digestive, irritant, sialagogue (stimulates secretion of saliva), stimulant, and tonic. Improves circulation and digestion. Combats chills. Weight loss. Boosts Immune system. Herpes, Shingles, Ulcers. Pain-killer. Increase blood flow to areas afflicted with rheumatism, arthritis, pleuritis, or pericarditis. Bunions, Psoriasis. Helps to prevent heart disease. Nausea, scrofula, swollen lymph glands, rheumatism, arthritis, and pleurisy. Use with lobelia for nerves. Cayenne is used as a natural fat burner and pain killer, to treat ulcers, increase metabolism, improve circulation, boost the immune system and aid digestion. It is used as a tonic for the heart, kidneys, lungs, pancreas, spleen and stomach and to treat herpes, shingles and rheumatism. It is also known to combat chills and has been used to treat bunions, psoriasis, pleuritis and pericarditis and has been indicated for preventing heart disease.
Common Names: African Birdeye Pepper, Bird Pepper, Chili Pepper, Cockspur Pepper, Goat's Pod, Mexican Chile, Paprika, Red Pepper, Tabasco Pepper, Zanzibar Pepper
Latin Names: Capsicum annuum, Capsicum minimum, Capsicum frutescens
Origin: South Africa
These statements have not been evaluated by the FDA. This product is not intended to diagnose, treat, cure, or prevent any disease or illness. Seek counsel from a Medical Professional.