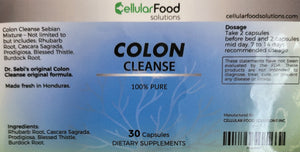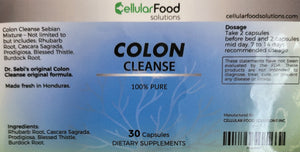 On Sale
Dr. Sebi Colon Cleanse " Complete"
Dr. Sebi's Colon Cleanse capsules are made fresh in Honduras and provide the best all natural herbs from Africa, Central and South America which:
Helps regulate.  

Helps cleanse.

Supports strengthening.

Support revitalization 
Of the colon. 
This formula is made to support adverse conditions. 
Promotes regularity of bowel movements and healthy formation of stools
Colon Cleanse Sebian Mixture – Not limited to but includes: Rhubarb Root, Cascara Sagrada, Prodigiosa, Blessed Thistle, Burdock Root.
Honduras Colon Cleanse – Original formula. Made fresh in Honduras.
These statements have not been evaluated by the FDA.
These products are not intended to diagnose, treat, cure,
or prevent any disease or illness. Seek counsel from a
Medical Professional.
Shipping notice: Orders generally ship out 5-10 business days, sometimes 1-4 weeks depending on the product. We do not store herbs. Each order is handmade to preserve the potency and freshness. The Dr. Sebi legacy is important & must be maintained. Orders may be shipped sooner