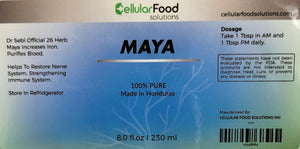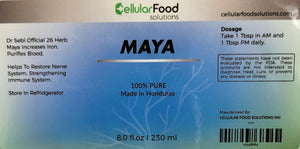 On Sale
Dr. Sebi 26 Herb Maya NOW BACK IN STOCK !
Shipping notice:MAYA IS NOW BACK IN STOCK  7 TO 10 DAYS TO YOU.
This Maya is the original Dr. Sebi's 26 herb Maya. It is an enhanced iron-rich nourishment, pro-biotic designed to support the blood, brain, and central nervous system.
Key part in rebuilding cells following Dr. Sebi's healing process.

Made fresh in Honduras. 8oz 
Main Ingredients 
African pepper
Sarsaparilla
Senna
Red clover
Burdock root
Elderberry
Sea moss
Bladderwrack
Chaparral
Cascara sagrada
Yellow dock
Dandelion
Blue vervain
Valerian root
Holy thistle
Buckthorn bark
Chamomile
Gentian
Lily of the valley
These statements have not been evaluated by the FDA. These products are not intended to diagnose, treat, cure, or prevent any disease or illness. Seek counsel from a Medical Professional.